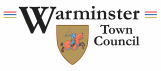 Warminster
Warminster is a town in western Wiltshire, England, by-passed by the A36, and near Frome and Westbury. It has a population of about 17,000. The River Were runs through the town and can be seen running through the middle of the town park. The Minster Church of St Denys sits on the River Were. The name Warminster first occurs in the early 10th century.
The town was first settled in the Anglo-Saxon period, though there are the remains of numerous earlier settlements nearby, including the Iron Age hill forts of Battlesbury Camp, Scratchbury Camp and Cley Hill, the latter a site operated by the National Trust. There are indications that a Middle Iron Age settlement may also have been situated just west of the town.
The town's prosperity following the growth of the wool trade in the Late Middle Ages caused the erection of many magnificent structures, including the Minster Church of Saint Denys, in a yew grove sacred from pre-Christian times, and including an organ originally destined for the then under-construction Salisbury Cathedral
Warminster has strong military connections. The name of the camp is Battlesbury Barracks and includes Harman Lines named for Victoria Cross recipient John Harman–Burma 1944. It is the home of the Land Warfare Centre — formerly the Army's School of Infantry — and abuts the Salisbury Plain Training area, which is large enough to exercise a Battlegroup and which is dotted with Royal Artillery live-firing ranges. The Small Arms School Corps and Headquarters Infantry are also based in the town.
Taxi Transfers available from Warminster
Save time, patience and airport parking fees & take the hassle out of travelling by letting us take you to or from Warminster and the destination of your choice.
Taxi2Flight offers convenient, affordable and reliable Warminster taxis to and from your home, hotel or work address in Warminster and your chosen destination.
Transfers from Warminster to:
Journey Information from Warminster
Some brief information about your journey times and distances from Warminster follows. Please note that distance & travel durations are approximate and routes taken may vary according to traffic, weather and so on.
Warminster to/from:
Bristol Airport
approx. 38 miles and a 60 minute journey time
Birmingham Airport Airport
approx. 128 miles and a 150 minute journey time
Cardiff Airport
approx. 91 miles and a 120 minute journey time
Exeter Airport
approx. 71 miles and a 100 minute journey time
Gatwick Airport
approx. 115 miles and a 150 minute journey time
Heathrow Airport
approx. 95 miles and a 120 minute journey time
Luton Airport
approx. 128 miles and a 150 minute journey time
Southampton Airport
approx. 54 miles and a 80 minute journey time
Stansted Airport
approx. 156 miles and a 180 minute journey time